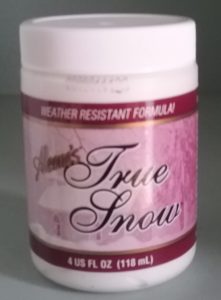 Aleene's True Snow
*Weathe resistant formula
* 118 ml pottle
* Great to use to give texture to any painting or project
* Use with sponge, brush, palette knife or any craft tool
*Air dries after 24 hours
*Clean up with warm soapy water
~~~~~~~~~~~~~~~~~~~~
GESSO PRODUCTS
~~~~~
fas gesso
*Primer/Sealer *Quick drying – waterproof *Non-Toxic
Fast drying primer/sealer for canvas, board and most painting surfaces. Seals adsorbent surfaces to prevent uneven appearance and excessively fast drying, resulting from paint penetration. In undiluted form, Gesso may be textured, but diluted with a little water if sealing is required.
* Colours – Black or White
* Two sizes – 375 ml or 1 lt
*Cleanup with warm soapy water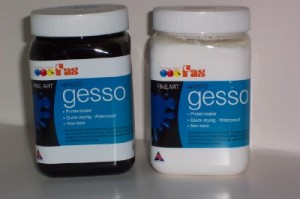 375ml pottle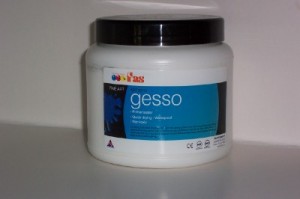 white only
~~~~~~~~~~~~~~~~~~~~
Jo Sonjas White Gesso
*Primer/Sealer *Quick Drying *Non Toxic
Fine-Grit finish with maximum "tooth". Suitable for Fine or Decorative Art applications. Use as a primer for most surfaces e.g wood, canvas, metal, paper, card and terracotta. May be thinned with Jo Sonjas Flow Medium. Clean up with mild soap and cool water.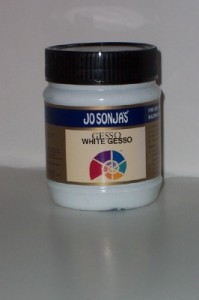 250ml pottle
~~~~~~~~~~~~~~~~~~~~~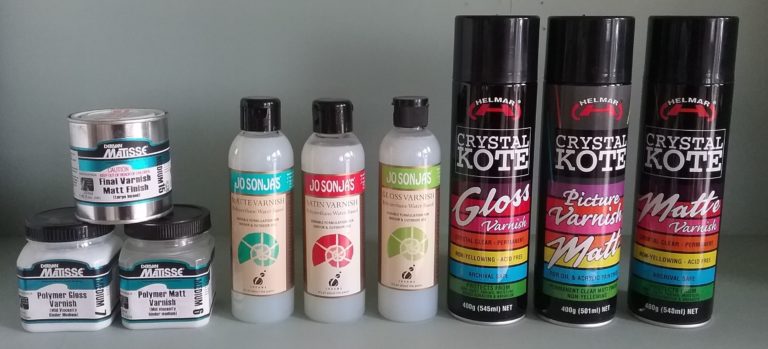 Varnish Range
Helmar Crystal Kote
400g – Spray varnish in Matt, Gloss, Picture Matte
Crystal Kote varnish provides a clear, permanent protective and flexible finish to any drawings, fine art, prints, photographs, watercolour, pastels, oil and acrylic paintings, scrapbooking and paper craft
– Non-Yellowing
Jo Sonja
250ml – Polyurethene Water Based
– Gloss, Satin, Matte
– Durable formula for Indoor and Outdoor use
– Clear, Non-Yellowing, Quick Drying
Maimeri
250ml or 1.75ml – Water Based
– Brillant, Matte
Made in Italy
Matisse
250 ml – Water Based Polymer Varnish
– Gloss, Matt
250 ml – Turps Base Varnish
– Gloss, Matt
Marabu – Chalky Chic
225 ml – Water Based
Made in Germany
Products:
– Protective Wax, Decoupage Glue, Crackle Medium. Soft Matt Varnish
~~~~~~~~~~~~~~~~~~~~~
-Brush Cleaners
– Chroma (liquid) 250 ml
– The Masters (cake)
3 sizes – 7g, 28g, 74g
~~~~~~~~~~~~~~~~~~~~~
AS – Art Spectrum
-Pure Gum Turpentine
-100 ml and 500 ml
*Please note this product cannot be posted, you would need to collect it.
~~~~~~~~~~~~~~~~~~~~~
Archival Oils
Odourless Lean – 100 ml