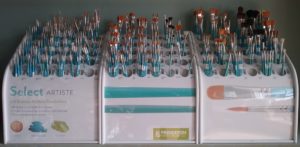 Princeton Select Artiste Brushes,
Series 3750
Created by the fine craftsmen of Princeton, in partnership with well-known artist
Willow Wolfe. A vast line of 29 distinct shapes, 108 individual brushes created
for oil, acrylic and watercolour artists. Now you can explore traditional and
avant-garde techniques on nearly any surface. Satin-finish jewel-tone
blue handles and silver ferrules make Select™ as beautiful to look at
as it is to paint with.
Made by artists for artists!

The Princeton Select Artiste Brush Series consists of a range of high quality
Filberts, Angular Shaders, Script Liners, Chisel Blenders, Rounds and Flats
as well as exciting technique brushes such as Lunar Blenders and Filbert
Grainers. Princeton's Select brush line consists of traditional decorative
painting brush shapes as well as exciting new technique brushes for special
Art and craft projects.
˜˜˜˜˜˜˜˜˜˜˜˜˜˜˜˜˜˜˜˜
D.A.S Taklon Brushes
| | | | | |
| --- | --- | --- | --- | --- |
| Liner | Filbert | Square Wash | Dagger | Angular |
| #5/0 | #0 | #1/8″ | #1/8″ | #1/8″ |
| #2/0 | #1 | #1/4″ | #1/4″ | #1/4″ |
| #0 | #2 | #3/8″ | #3/8″ | #3/8″ |
| #1 | #4 | #1/2″ | | |
| #2 | #6 | #3/4″ | | |
| #3 | #8 | #1″ | | |
| #4 | #10 | | | |
| #6 | #12 | | | |
~~~~~~~~~~~~~~~~~~~~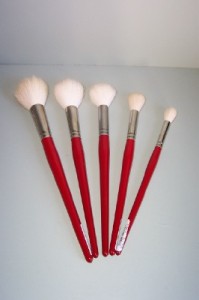 D.A.S White Goat Hair Mop
#10
#12
#14
#16
#20
~~~~~~~~~~~~~~~~~~~~
Escoda Brushes
Brushes made in Spain – Natural Bristles